As a full-time entertainment company that focuses on wedding and corporate entertainment, we wake up every day with the mission to create uniquely-crafted, personalized, memorable, and fun events that help bring together rooms full of people to create connections and to celebrate love!
What will my experience be like when working with Classy Cat?
"Jonathan from Classy Cat Entertainment was the first wedding vendor we booked. If you're interested in having a DJ for your wedding- he's the real deal. Not only does he know what songs to play for cocktail hour and dinner, but he really knows how to keep people dancing on the dance floor! He was real easy to work with and made it very easy for us to submit our must have song choices as well as the requests we received through our RSVPs. He integrated them into our day perfectly. Their ceremony sound and music was perfect for our outdoor ceremony. We heard the songs perfectly from the beginning of the aisle, to where our guests were seated, and our pergola. Not only was this vendor perfect for our music, they also helped in other extra ways. Jonathan provided the music for our send off/ fireworks display as well and displayed our custom monogram projected on a wall in our reception space, and they offer so much more specialty services and lighting too! If you couldn't already tell, they were perfect and our day was perfect. This is your DJ. You'd be crazy to consider anyone else!
"Hiring Jonathan was the best decision we could have made! Our wedding was the best night of my life thanks largely to the incredible entertainment he provided which set the mood for the whole party! There was not a moment when the dance floor wasn't full! We had live percussion (drums) for the dance portion of the wedding and it really added to the vibe of the room! We received so many compliments from guests and comments on how unique it was! On top of the music, Jonathan provided us with the awesome photo kiosk that our guests loved, the gorgeous uplighting, and the HDTV's that our guests could text pictures to during the event! Jonathan also helped my Dad and I by putting together multiple different songs for our father daughter dance and it took him no time at all to provide us with the audio! Thank you Jonathan and Classy Cat Entertainment for helping make our wedding night absolutely incredible and a night we will remember fondly for the rest of our lives! So, if you're looking to have a great time at your wedding or event, look no further, Jonathan is your guy!!"
I'm so happy we went with Classy Cat for our wedding! From the moment we booked, Jonathan and Lynette were so helpful! Anyone needing an officiant - request Lynette!!! She is like the sweetest mother figure, friend and wedding coordinator rolled into one. She was always available for my questions via email or text whether it was 10pm on a Tuesday or 9am on a Sunday. We had Lynette as our officiant and MC so she married us and also acted almost like a day-of wedding coordinator, keeping everything running so smoothly the entire day. We had MANY unsolicited compliments from people telling us our ceremony was the most beautiful ceremony they had ever been to, and most of those compliments were from older guests who have probably been to dozens of weddings over the years! Even my husband's very religious grandmother (who probably wished we were married in a church) said the ceremony was so heartfelt and beautiful, and we can't thank Lynette enough for her amazing work. We are also so thankful for our DJ Michael Gravelin who killed it and kept the dance floor packed. He was very mindful of our "must play" and "do not play" song lists, and was able to fill in songs as needed on his own when we ran out. Everything was flawless, sound was perfect the entire night, no awkward gaps in between songs, etc. I have heard so many horror stories of bad DJ experiences, but I'm so thankful we're not one of them!! Thanks so much Classy Cat!
I don't think it would be possible to explain how grateful I am to Jonathan for everything he did for our wedding day! He operated as both our officiant and our DJ, but he did so much more than that. He met with us multiple times before the wedding to help keep us on track, he put out lights to help highlight the incredible architecture of our venue, he provided our photo booth, which was a huge hit the entire night, he maintained our timeline throughout the day in a way that was professional and non-intrusive. I can't tell you how many people stopped us throughout the night to tell us what an incredible job our officiant had done with the ceremony and how wonderful our DJ was. They were blown away when we told them they were the same people. I can't recommend Classy Cat Entertainment enough and I can't imagine having used anyone else.
Are you ready to ask the question...
What does Classy Cat offer?
Gone are the days where the DJ plays an entire song...waits for the song to end or fade out...and begins the next song. We seamlessly mix your favorite songs together for the best dance floor experience for you and your guests!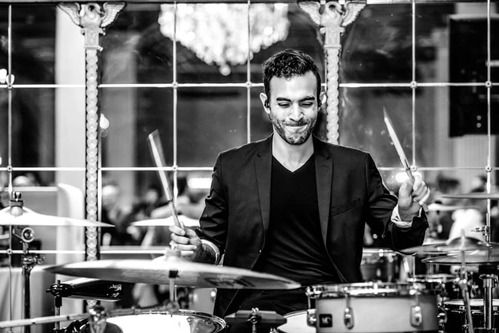 Trying to decide whether to hire a DJ or Band? You don't need to! You can have the best of both worlds as a live percussionist redrums the beats of your favorite tunes live, and the DJ steers the "musical ship" and mixes your favorite songs seamlessly all night long!
With so much cool technology at our fingertips, we help you transform any room into one that brings your guests to complete amazement, and provide them with a second-to-none experience. If you can think of it, we can do it!
Looking for your first dance to be more romantic? Don't want to do the same exact things as your friend did at their wedding? There are many ways you can enhance any moment of the night!
There's no better way to capture the smiles of your guests in a candid way. Our booths not only provide high quality prints with fun props, but also an attendant that helps raise your level of comfort and quality of experience.
When you're not quite ready to say goodnight, keep the party going and have us provide the late-night tunes at your next stop.
Before the wedding day...
Venue site visit and walkthrough
Advice on optimal experience and design
Order of events planning
Music collaboration and curation
Custom music edits (Grand Entrance, First Dance, etc.)
Final itinerary documents emailed to venue and partners
Early arrival
Equipment unload, setup and teardown
Coordination with venue coordinator and wedding planner to ensure a smooth transition between ceremony, cocktail hour and reception
Coordination with partners including catering, photo and video teams
Organize wedding party lineup for ceremony processional and reception grand entrance
Seamless mix of your favorite songs
Are you ready to ask the question...
How does Classy Cat sound?
Coming soon...this will be your source for playlists, live DJ mixes, and spoken-word content brought exclusively to you every day!
We know you'll ask...so here's the next 7 steps every couple takes to get started...
Contact Classy Cat (by phone, email, text, or contact form) for availability - or setup your initial consultation right away by booking a time below!
Meet with your event host via phone, video or in-person meeting!
Your date is on hold for 5 days after you meet with your event host. When you're ready to move forward, simply sign the digital contract and submit your deposit to reserve your date!
We host 3 creative planning sessions with each of our couples so we can create a personalized event plan, curate your music for the day, and get to know each other better!
The week of the wedding, we'll schedule a 10-minute phone call (the Cat Chat) to go over the event plan for the day, and to make sure nothing was missed!
If we're available and hosting during your ceremony, we'll attend your ceremony rehearsal to guide, inform, direct and stage your wedding party in order to make sure everything goes smoothly!
It's your wedding day and it's time to party! All the hard work will definitely pay off!
Your day deserves the very best.
Schedule a free 20 minute call with Syracuse's most distinguished wedding entertainment specialist!
These spots are extremely limited and will be awarded on a first-come, first serve basis!